---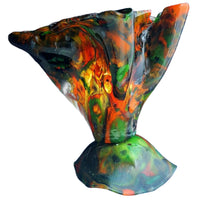 Illuminate your home with Autumnal colours
Approx: Size: 23x24cm       Weight: 1.5kg
Created using my own unique, original design giving your homes interior design a modern twist.
The rich earthy Autumnal tones, luscious greens, browns and oranges come alive when illuminated.
Funky, functional, fused glass art with a naturally organic shape.
Directs Light upwards while creating a calming cosy atmosphere.
Introduces a luxurious element and enhances the individual style of your home.
The ideal wedding, birthday or corporate gift, something totally unique.
A beautiful addition to any home, a treasured piece of Irish craft, Made Local in Wexford, Ireland.
Lastly, when you purchase my lamps you are supporting a dream. Thank you!
Please note
that while I have tried to accurately display the colours of products, the actual colours you see will depend on your monitor and may not be accurate. The product images on Annette Whelan's website may differ from the products you receive due to variations in electronic screen settings (computer/laptop/tablet/smartphones)